READY TO START YOUR JOB SEARCH?
FIRST, SELECT YOUR ENTITY.
Santander Career Journeys
Discover the career journeys of colleagues across Santander US. Click the resumes on each tab below to see exactly how colleagues grew their careers at Santander.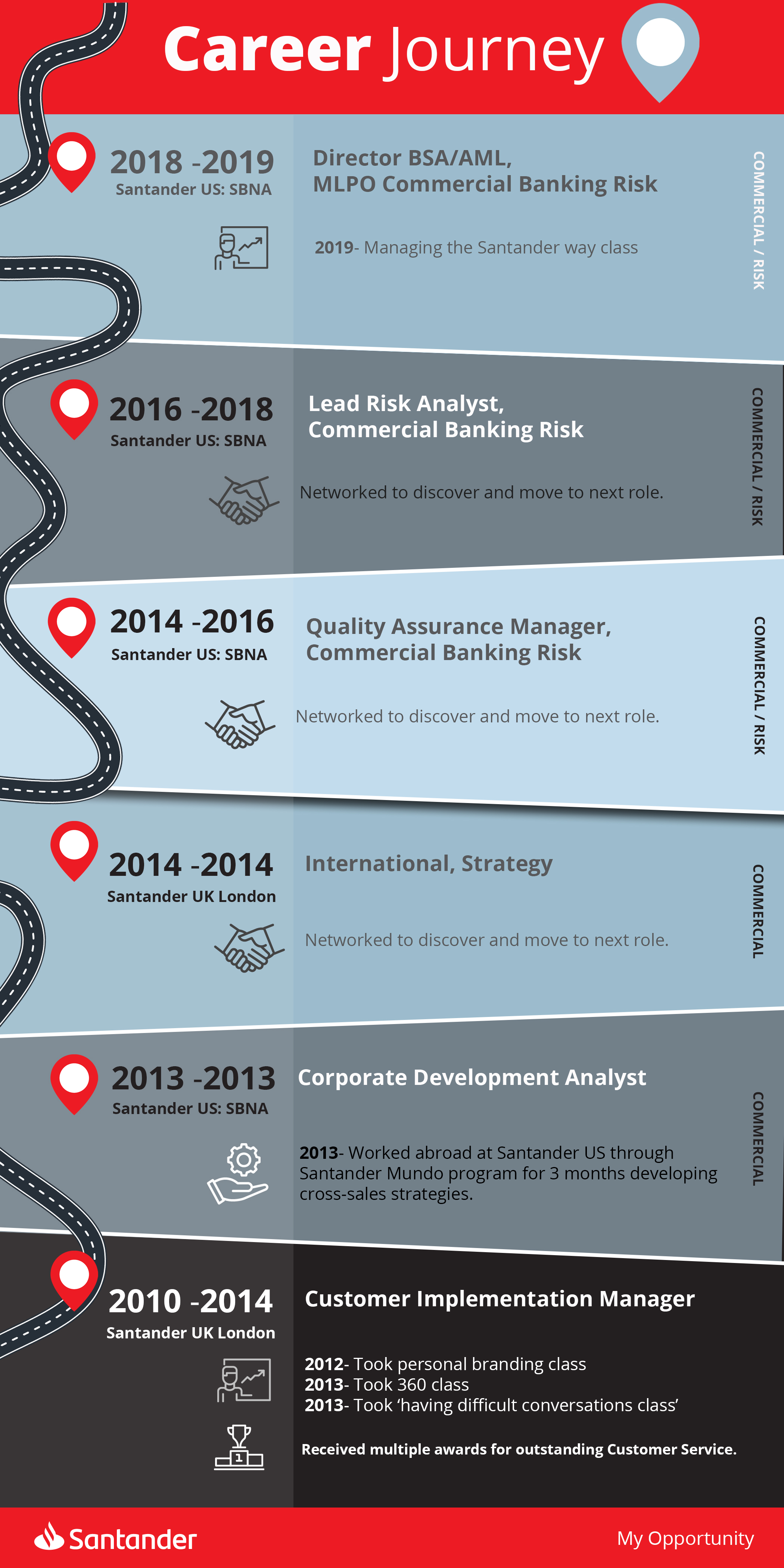 Gone Global: Michelle Markeson's International Career Journey
Michelle's Santander career journey began in 2010 after she was approached to join Santander UK as a Customer Implantation Manager in London.
Through hard work, networking, professional development, and the Santander Mundo program, Michelle took her talents abroad, bringing her to Boston for a 3 month assignment in 2013.
Although the program had concluded, Michelle made connections within Santander US which would eventually secure her a permanent spot in Boston in 2014.
She began her official career at Santander US as a Quality Assurance Manager in Risk, and eventually was promoted to a Lead Risk Analyst.
She continues to network, take professional development classes, and work hard to evolve her career journey at Santander.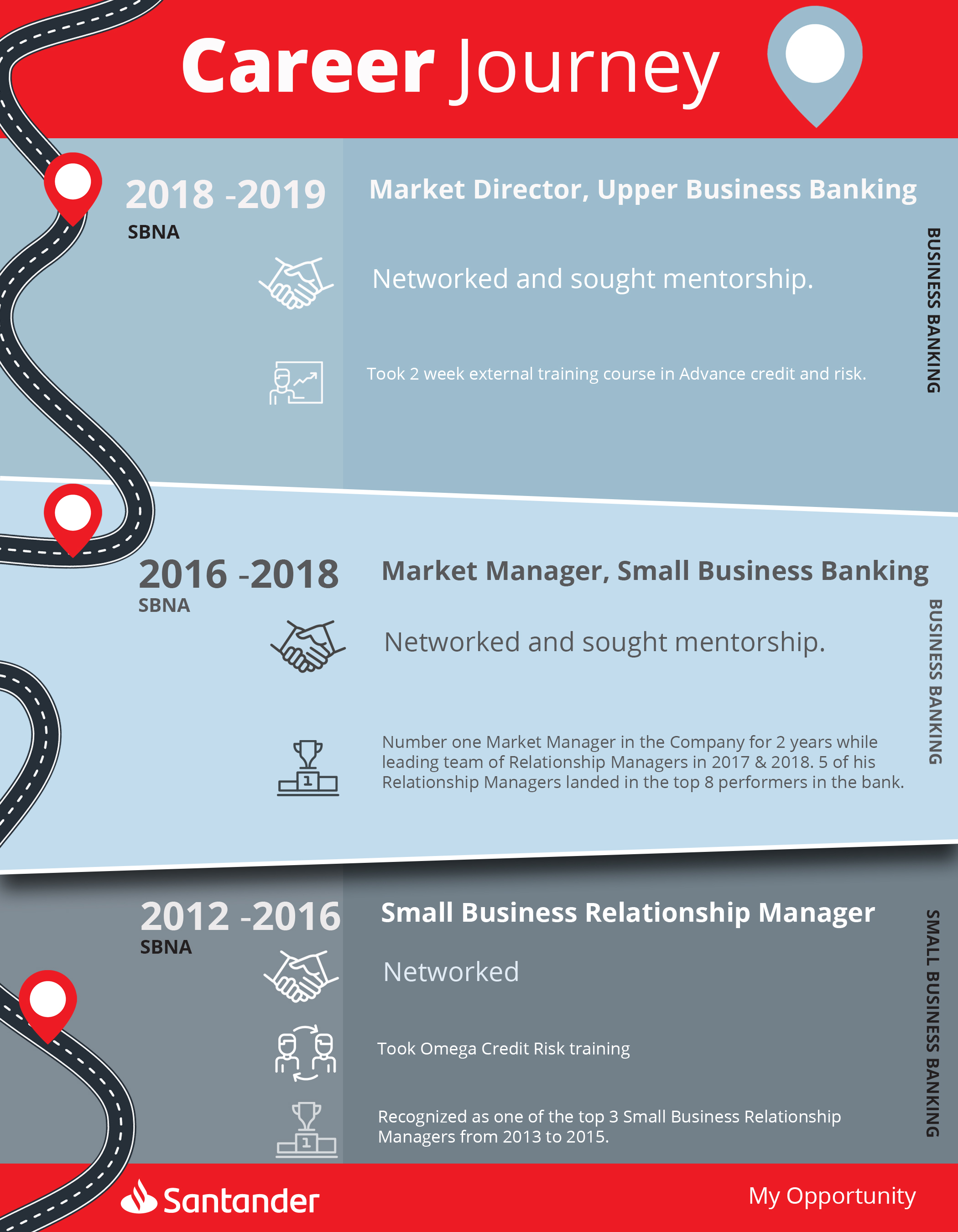 Consistently High Performance: Solomon Ponniah's Career Journey
Solomon Ponniah began his Santander Career Journey in 2012 as a Small Business Banking Relationship Manager.
Through networking and seeking out external training that would allow him to advance, Solomon was promoted to a Small Business Banking Market Manager role in 2016.
In this role, he led 5 Relationship Managers on his team to the top 8 performers in Santander US.
Through additional training, networking and actively seeking mentorship from peers and leaders, Solomon recently advanced to a Market Director role at the beginning of 2018, his most current role to date.
"Holding different positions at Santander is valuable because it expands your scope and knowledge. It has challenged me to be a better person, because every role I've taken comes with new challenges."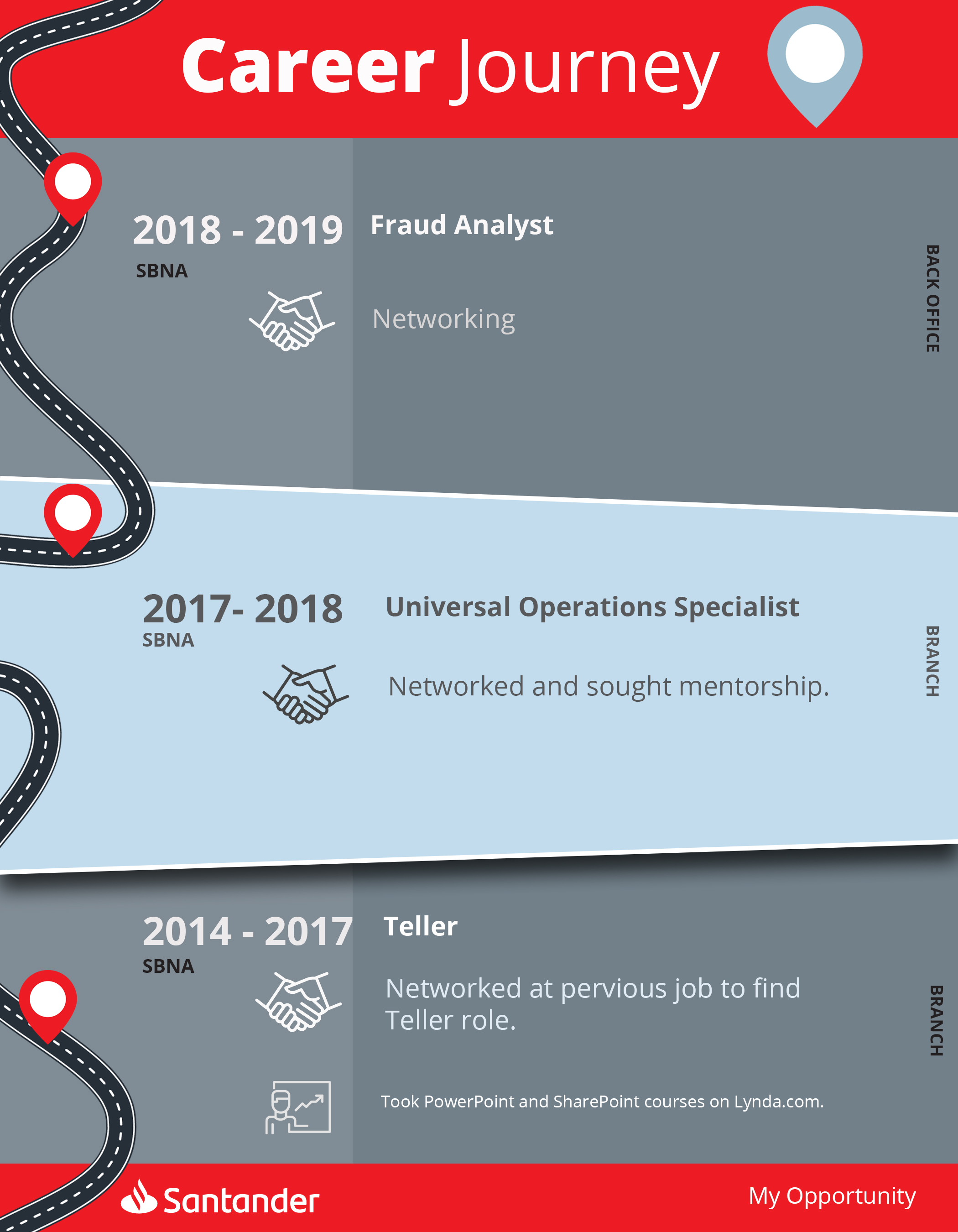 From Customer to Colleague: Anthony Crockett's Career Journey
Anthony Crockett was a Santander customer before applying for a teller position in 2014.
Being a hard worker with great interpersonal skills, he excelled at his role, and was eager to grow within the company. His sights were set on eventually finding a back office role on the Fraud team, which motivated him to take online learning and development courses through Lynda.com during his spare time.
Through networking amongst his colleagues, he discovered an open role as a Universal Operations Specialist. His role required him to travel to different branches, which in turn, allowed him to grow his professional network over time.
Over the course of his 5 year career journey, Anthony was able to retain a spot in the back office. He now sits on the Fraud team as an Analyst.

Share what it's like to be part of the Santander Team
Write A Review